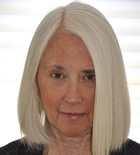 As an instructor of Mindfulness-Based Stress Reduction, I have been teaching mindfulness practices to individuals and groups of students for over 15 years. Since 1996, I have created and presented a variety of MBSR programs for the general public, mental/physical health care professionals, educators and students, patients and caregivers, senior citizens and employees and employers. In the aftermath of the terrorist acts of 2001, I taught mindfulness practices to survivors, first responders and the general public for FEMA/NYS Office of Mental Health "Project Liberty".
In addition to providing individual instruction, 8-week courses, and workshops, I have presented a variety of MBSR seminars including "Mindfulness and Conscious Eating", "Working with Our Anger", "Finding Happiness" and "Calming the Anxious Mind" and one-day retreats. All programs have been available for those individuals new to mindfulness practices as well as for experienced practitioners who are looking to expand, deepen and strengthen their mindfulness practice.
I received my Masters in Humanistic Education from Goddard College. I acquired my MBSR professional training from Dr. Jon Kabat-Zinn and Dr. Saki Santorelli of the University of Massachusetts Medical Center as a participant in the "Mindfulness-Based Stress Reduction in Mind-Body Medicine" training program. My professional work and personal life have been informed by my 25 years of Insight Meditation practice and Buddhist studies.
In addition to my MBSR private practice, I am currently a part-time Training Specialist for Crystal Run Healthcare LLP. I have served as the Director of Staff Development at Crystal Run Healthcare LLP in Orange/Sullivan County, Education and Training Manager at Mental Health America in Dutchess County and Family Support Coordinator at the Mental Health Association in Ulster County.
As a long term resident of Ulster County, NY, I continue to enjoy the beauty, serenity and simplicity of living in this rural area which sustains my meditation practice and enables me to enter the busyness of the world with greater calm and ease.